UPDATE #5 -Educational Resources to Assist While You Are Home – Amanda Wade, M.Ed.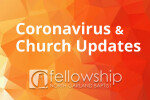 Hello, Church Family. The following are some resources and info to assist as many of you are home with your kids maybe wondering what to do in terms of schooling.
Here are a few tips to help you get started with your at home learning plan:
Create a schedule (children strive in an environment that has consistency and routine)

Set up a work space for your child to work (free of distractions)

Set clear expectations for what you want completed each day (decide what assignments should be completed each day)

Make it fun! (Everything doesn't have to be paper and pencil, learning can happen from everyday items in your house. Use beans, snacks, fruit, cereal, etc to change things up when learning math, reading, science, etc)

Enjoy the time to learn together (For many of us we will be learning right alongside our children, take this time to enjoy the opportunity to teach and learn with your child.)

Smile!! Stay encouraged parents, we are all in this together!
Remember each school district has provided resources to help you with engaging lessons for your children to complete. If it has not already been sent out, it is coming. If your children attends Garland ISD grades PreK-12, the at home learning website has launch this week. Here is the link: https://sites.google.com/garlandisd.net/gisd-distance-learning
For families in Garland ISD, the school district will be providing curbside breakfast and lunch meal services: Breakfast will be served from 8-9a.m. and Lunch will be served from 12-1p.m. Serving locations are listed here: http://www.garlandisd.net/content/resources-coronavirus-covid-19
This is a sample schedule that parents can use:
https://docs.google.com/document/d/1u70S6qnSA9JAgZ9fbW7XfCjH8EGnZDxV_4PbFQHJ-_Q/edit?usp=sharing
Additional Resources for Parents
All Subject Areas
Reading
https://classroommagazines.scholastic.com/support/learnathome.html
Math
Typing
Social Studies
Science
www.kids.nationalgeographic.com
Lastly, Spectrum commits to offering free Internet for 60 days to households with K-12 or college students who do not already have a Spectrum subscription. To enroll, call 1.844.488.8395. Comcast has also committed to providing internet packages for free to customers for 60 days. To enroll, call 1.855.846.8376.